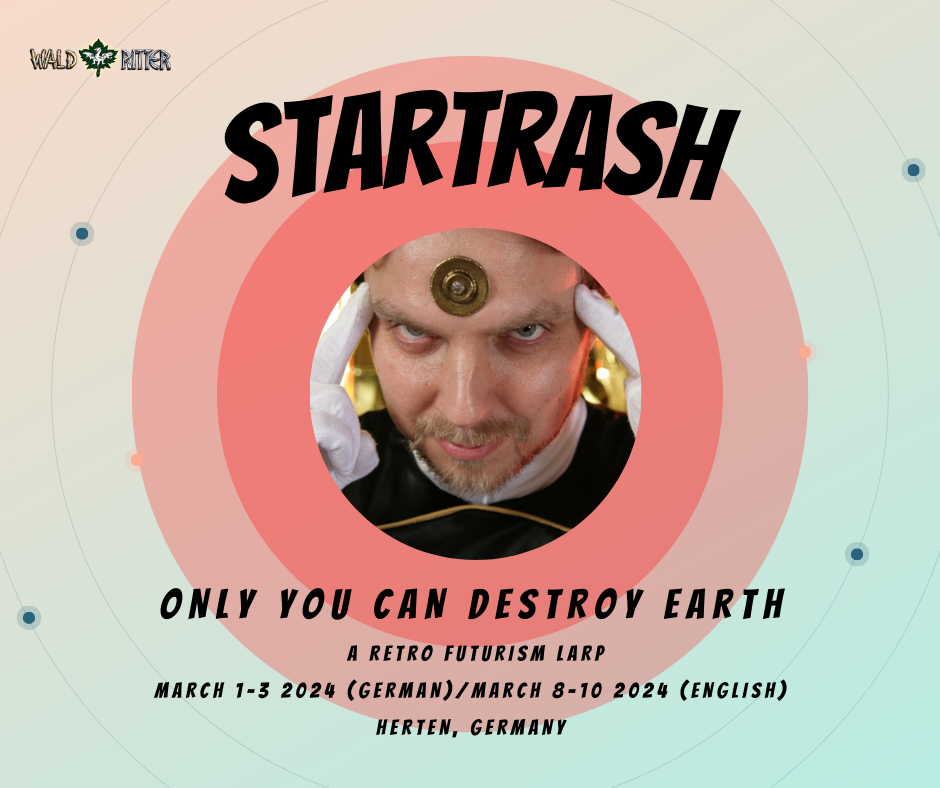 General information
Date:                      March 8-10, 2024
Organiser:              Waldritter e.V.
Location:                Kreativ.Campus in Herten (Ewaldstr. 20, 45699 Herten)
Participation fee:    250 Euro
Age limit:                18+ years
A mysterious drug has recently been discovered on a small, underdeveloped planet at the edge of the Milky Way. This could addict half the galaxy within a very short time and plunge the universe into chaos. The Intergalactic Council, or rather its sub-committee 23b, therefore convenes for a special meeting to decide whether the planet should be destroyed or simply quarantined.
Startrash – only you can destroy earth is a larp in the style of classic science fiction films from the 1930s to the 1970s. Films that, due to technical and social progress, but also our viewing habits, are now considered classics at best, but probably more trash. At the time they were made, however, they were entertaining yet serious takes on the future, outer space and extraterrestrial life.
The concept of the game takes this idea into account: sets, props and even the costumes of the participants do not have to be perfect or "realistic", but can and should look "trashy", just like the weird hairstyles, strange costumes and improvised backdrops of the originals.
Further information can be found in the game concept paper.
Registration is possible from December 1st 2023, 6 p.m. under this link.
To enable people with less financial resources to participate, there is a contingent of tickets at a reduced price.
This larp is organized by Mary Stormhouse, Karsten Dombrowski and Caro Nebe.
contact: karsten.dombrowski@waldritter.de und carola.nebe@waldritter.de