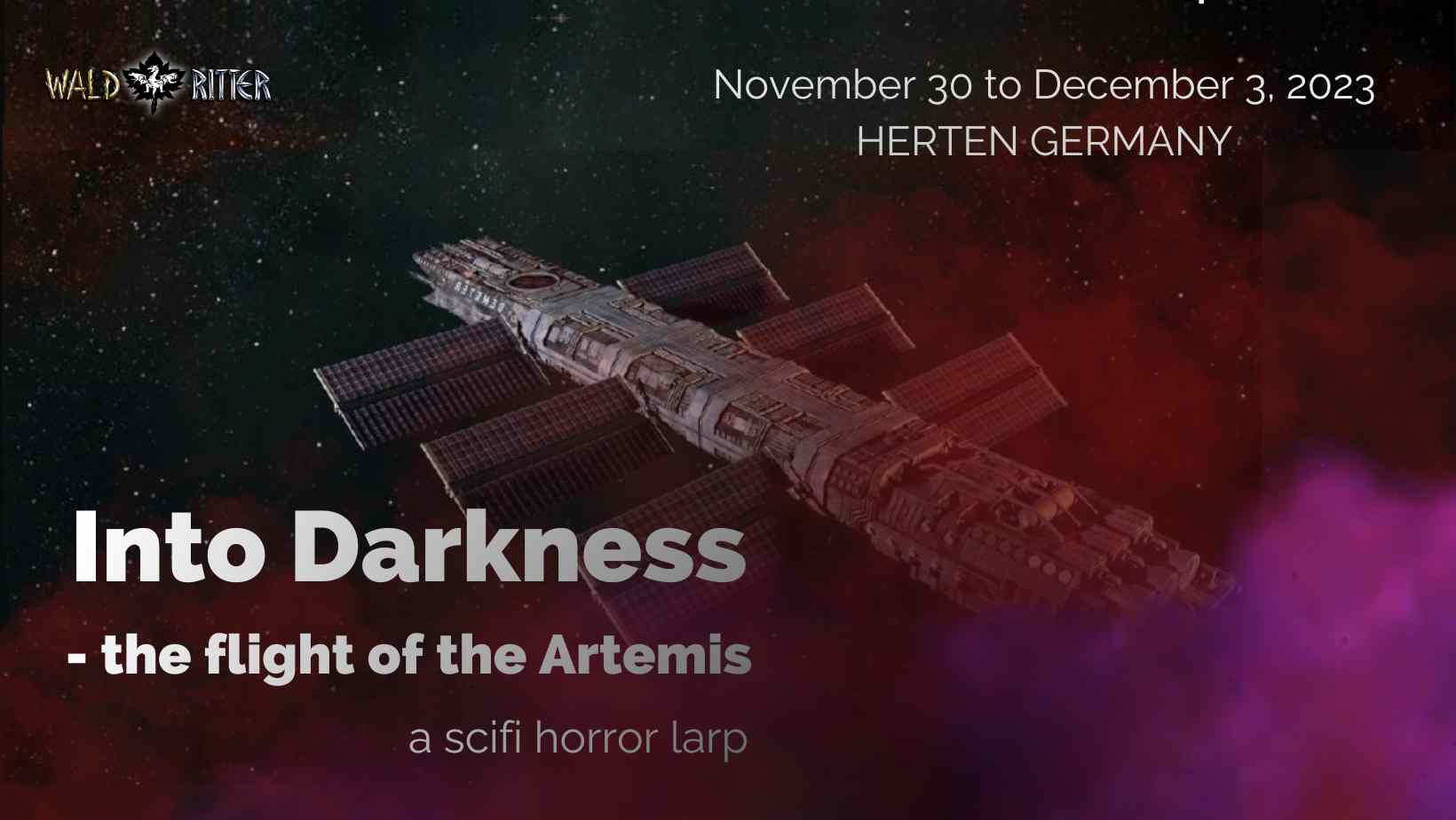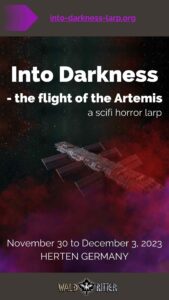 Our new storyline will delve into the prequel story of "Into Darkness," shedding light on the mysteries that surround the last mission of Demeter's sister ship Artemis. A planned story that we have had in our heads since the first run of "Into Darkness" and was at the top of the wish lists of the previous participants.
The story teaser so far: "Scientists pick up a mysterious signal and track it down. Is it the first contact with an extraterrestrial civilization? The Artemis is on its way through space to find out more and the abyss of the human soul opens up for the crew…"
This revised storyline will offer you a more intimate and immersive experience due to the lower number of participants, allowing you to connect with the characters and their fates on a deeper level. You'll face personal terrors, and confront the unknown horrors lurking in the void of space.
"Into Darkness the Flight of the Artemis" is a sci-fi horror LARP inspired by films such as Event Horizon, Cloverfield Paradox and Solaris. The game is designed the way that participants are confronted with psychologically stressful challenges, up to and including existential threats to their roles. Therefore it may not be suitable for faint-hearted people.
About 30 participants will represent the crew of the spaceship Artemis – a long-range research spaceship of the Nolan Watanabe Industries corporation. On the way, the abyss of the human soul opens up for the crew…
The game takes place at the Kreativ.Campus Herten (NRW) of the Waldritter e.V. For this purpose, the association purchased an old department store a few years ago and subsequently converted it into a live role-playing location. In addition to numerous self-designed backdrops and a sophisticated lighting, sound and IT system, the Waldritter e.V. also brought together several pieces of scenery from LARP and film productions from all over Europe and merged them into a playing area, unlike any other in Europe. Software has been developed especially for Into Darkness and is constantly being refined. It realistically simulates the virtual steering and control of the Demeter's functions via consoles and monitors distributed throughout the ship. Participants can expect a unique immersive spaceship experience in the oppressive atmosphere of space.
OT Info: Into Darkness – the Flight of the Artemis can not be "won". The aim of the game is to fail phenomenally together with others, to get to know human abysses and to make borderline experiences that would be too risky in real life. The confrontation with death and/or madness – including one's own role – is unavoidable after a certain point. If this setting is not for you, please look for any other of our events.